Palazzo Strozzi presents Helen Frankenthaler: Painting without Rules, an ambitious presentation of the poetic abstractions of one of the most significant American artists of the twentieth century whose work has rarely been exhibited at such scale in Italy.
This survey examines Helen Frankenthaler's artistic affinities, influences, and friendships by interweaving paintings created between 1953 and 2002 with select works by some of her contemporaries—including Anthony Caro, Morris Louis, Robert Motherwell, Kenneth Noland, Jackson Pollock, Mark Rothko, David Smith, and Anne Truitt. In addition to loans from the Helen Frankenthaler Foundation, international museums, and private collections, the exhibition also features works by her peers that were part of the artist's personal collection.
Celebrated among the second generation of postwar American abstract painters, Frankenthaler (1928–2011) played a pivotal role in the transition from Abstract Expressionism to Color Field painting. Active for more than six decades, Frankenthaler emerged on the American art scene with a no-rules approach to painting, protean imagination, and improvisational skills that reshaped the narrative, not only for women artists, but for the genre itself. With her innovative soak-stain technique, Frankenthaler explored a new relationship between color and form, expanding the potential of abstract painting in ways that continue to inspire artists today.
Working with color and space, abstraction and poetry, Frankenthaler distinguished herself through her unique ability to combine technique and imagination, research and improvisation, expanding her practice beyond established canons in the pursuit of a new freedom in painting.
The exhibition is co-organized by Fondazione Palazzo Strozzi, Florence, and the Helen Frankenthaler Foundation, New York, and is curated by Douglas Dreishpoon, Director, Helen Frankenthaler Catalogue Raisonné.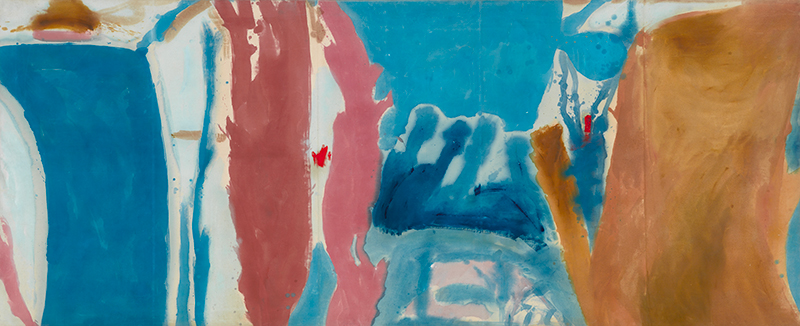 Cover: Helen Frankenthaler, Open Wall (det.), 1953 © 2023 Helen Frankenthaler Foundation, Inc. / Artists Rights Society (ARS), New York / SIAE, Rome