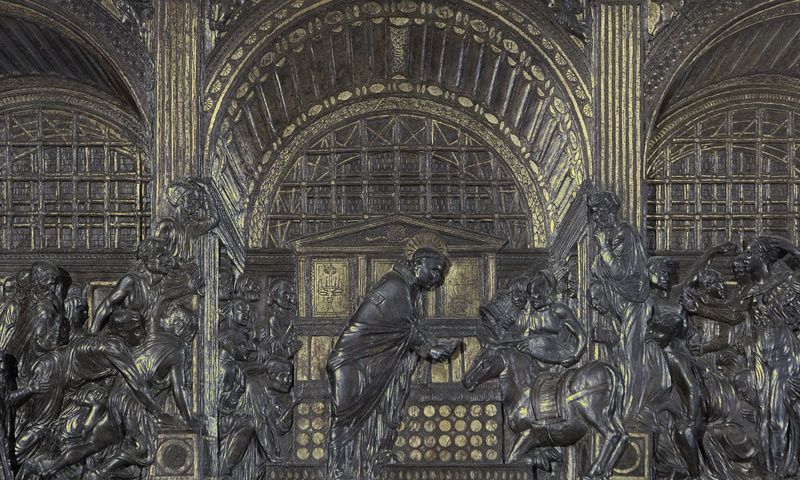 Every week the Palazzo Strozzi newsletter will be launching a word associated with its Donatello, the Renaissance exhibition to create an original glossary devised to facilitate an understanding of Renaissance art and to explore certain specific terms in greater depth.
The Fondazione Palazzo Strozzi has developed its One Word a Week project in conjunction with Florence University's SAGAS (History, Archaeology, Geography, Art and Entertainment) Department as an educational experience for 12 art history postgrad students to create a dedicated exhibition glossary for all visitors that can be consulted on line at any time. Each entry is associated with some of Donatello's works on display in Palazzo Strozzi, expanding on their understanding and interpretation from a linguistic standpoint.
In the course of a cycle of encounters (October 2021 – February 2022) the students explored the works, artists and themes in the Donatello, the Renaissance exhibition in considerable depth whilst also analysing the communication material used in Palazzo Strozzi's exhibitions (explanatory panels, captions, timelines, texts for families and teenagers and so on) and selecting 12 words to work on in an effort to put across certain concepts or terms that recur in Donatello's art. In drafting the glossary they alternated independent writing with collective review, thus gaining a deeper understanding of the way exhibition texts should be edited.
The students who took part in the project were: Silvia Arzuffi, Eleonora Caiani, Camilla Chini, Caterina Corsi, Cristina Cugliandolo, Silvia Faranna, Camilla Gasparini, Roberta Genualdo, Lorenzo Grimaldi, Marta Ranalli, Francesca Russo, Eleonora Taini.
Our thanks to the SAGAS Department, and in particular to Modern Art Professors Cristiano Giometti and Gabriele Fattorini for their amenability and cooperation.
Above: Donatello, Miracolo della mula, 1446-1449 circa, Padova, Basilica di Sant'Antonio, Altare del Santo. Foto di Nicola Bianchi /Archivio Fotografico Messaggero di sant'Antonio
Scheduled