Contemporary art is an integral part of the identity of Palazzo Strozzi that, within the project We Rise by Lifting Others, combines physical and digital dimensions to encourage an active relationship with its audience. This cycle of talks with important exponents of various sectors such as art, fashion and economics aims to further expand the scope and possibilities of interaction with the public.
The first talk will feature Maria Grazia Chiuri, Creative Director of Dior women's collections, in conversation with the artist Marinella Senatore and the curator and director general of Fondazione Palazzo Strozzi Arturo Galansino.
The conversation will be online on Thursday 10 December at 18.00 on the Facebook page and on the YouTube channel of Palazzo Strozzi. The conversation, together with the others of the cycle, will remain available online on the social channels of Palazzo Strozzi.
Maria Grazia Chiuri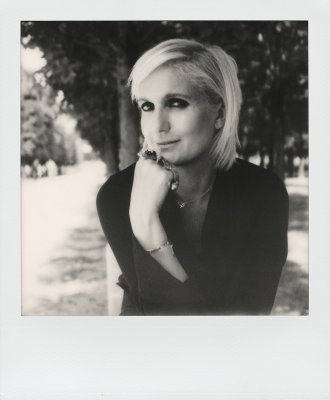 Maria Grazia Chiuri was appointed Creative Director of women's haute couture, ready-to-wear and accessories collections for the House of Dior in July 2016. The House was looking for a designer who possessed a vision and a deep understanding of contemporary women's needs.
Her talent for connecting fashion and many kinds of femininity, as well as her intuitions and her artistic passions led her to be the first woman named to this position.
In keeping with her belief that "haute couture is not just about ball gowns", Maria Grazia Chiuri cultivates a design process that explores all aspects of the contemporary woman's wardrobe, her dreams and deepest desires. Her creations encompass all ages, shapes and attitudes. They embody elegance and refinement in accordance with concepts that are filled with meaning, as powerful as they are inspired.
Maria Grazia Chiuri considers fashion as a fundamental part of life. She loves equally creating delicate, intricate eveningwear and sublime yet comfortable pieces for everyday wear. For her, fashion is not only a means for women to better understand themselves, it is also a tool to help express their authentic, multifaceted identity. Her work is inspired by female figures who embody a true balance of strength and grace. Among her muses are dancers, artists, activists and writers, as well as the brave young women of today, first among them her daughter, Rachele.
Maria Grazia Chiuri was born in Rome in 1964. Inspired by her mother, a dressmaker, she knew from a young age that she wished to pursue a career in fashion. She studied at Istituto Europeo di Design in Rome, where she trained in the technical side of fashion design while exploring the cultural and artistic heritage of the Italian capital. Art history and cinema have always informed her work, notably during her time at Fendi, a House for which she designed handbags, starting in 1989. In 1999, she was appointed head of accessories at Valentino and, from 2008 to 2016, she was joint creative director with Pierpaolo Piccioli. Since arriving at Dior, in July 2016, Maria Grazia Chiuri has encouraged universal empowerment and strong sorority. Through the messages in collections and runway presentations that are conceived like so many manifestos, from "We Should All Be Feminists" to "Sisterhood Is Powerful", she reasserts and celebrates the values central to feminist (r)evolutions and young generations, beyond slogans and stereotypes.
On the occasion of the Dior Autumn-Winter 2019-2020 haute couture show, Maria Grazia Chiuri was decorated, in the name of the President of the French Republic, with the insignia for the Chevalier de l'Ordre National de la Légion d'Honneur (Knight of the National Order of the Legion of Honor), by the Secretary of State for Gender Equality, Marlène Schiappa. A prestigious recognition that acknowledges the Creative Director's passion and commitment, and her contribution through her dedication and creative vision of fashion and haute couture, to the standing of France and the House of Dior around the world.
On top: Dior, CRUISE 2021, photo Alessandro Garofalo
Pagine collegate
Scheduled