by Ludovica Sebregondi
While many of us may be experiencing our home right now as a place where the current emergency is forcing us to stay holed up, isolation can be a life choice for some people. In fact it was just that for centuries. Think of the hermits who used to shut themselves away in tight spaces or even had themselves walled in, or the monks and friars who sought and found a space for meditation and prayer in their narrow cells. Artists have revisited and reinterpreted these spaces both in the past and today, often depicting them as immaculate "perspective boxes" in which human individuality is enhanced in a meditative reflection.

Andrea di Bartolo, St. Catherine of Siena with Four Blessed Dominican Nuns (detail), 1394-1398 circa, Museo Vetrario di Murano.
Andrea di Bartolo (Siena, recorded 1389–1429), for example, in the predella for his panel painting of St. Catherine of Siena with Four Blessed Dominican Nuns, dated c. 1394–8 and now in the Museo Vetrario in Murano, shows the religious in four scenes of daily life in the cells in which, as Salvatore Settis writes, the narrative imparts "a meaning and an intensity" to solitude "designed to prompt the observer to identify with that visible example of piety" through an "intense relationship with the divine with which the narrative is infused."
The painting was shown at Palazzo Strozzi's Bill Viola. Electronic Renaissance exhibition in 2017, when the video artist's work was displayed alongside the old master works that had been his source of inspiration, accompanying the development of his artistic style.

Bill Viola, Catherine's Room, 2001. Courtesy Bill Viola Studio.
Andrea di Bartolo's polyptych inspired the video entitled Catherine's Room (2001). Five colour videos arranged horizontally, like the panels of a predella, frame the room of a woman going about her daily chores throughout the day, always alone. Each screen shows a different moment of the day: morning, afternoon, sunset, evening and night. On the wall of the room there is a small window through which we catch a glimpse of the branches of a tree portrayed, in each screen, at a different moment in its yearly cycle, from when it blossoms in spring until it has shed all its leaves at the end of the year. Thus the videos do not only show us a full day with the changing light, they also show us the course of a year through the different phases of vegetation and the course of human life from waking up (signifying birth) to going to sleep (representing death).
Settis explains: "In Bill Viola's installation, Catherine is not the saint of that name; this predella neither accompanies nor presupposes a religious icon. It is the tale of a woman's actions captured in the intimacy of a solitary life, to some extent involving a sanctification of the daily routine as suggested by the implicit, yet strong, reference to the predella format and to the religious and narrative tradition that this entails. Thus the leading lady's flowing gestures are transposed onto an almost ritual plane, thereby drawing our attention to her individuality. Catherine's ego is expressively indicated through her body language, a solitary presence in a space built to resemble the stage of a theatre: always the same yet ever changing according to the way it is furnished. Alone with herself, as indeed is each one of us as we observe her, Catherine deserves our gaze for that very reason. Her solitude resembles us, her room is ours."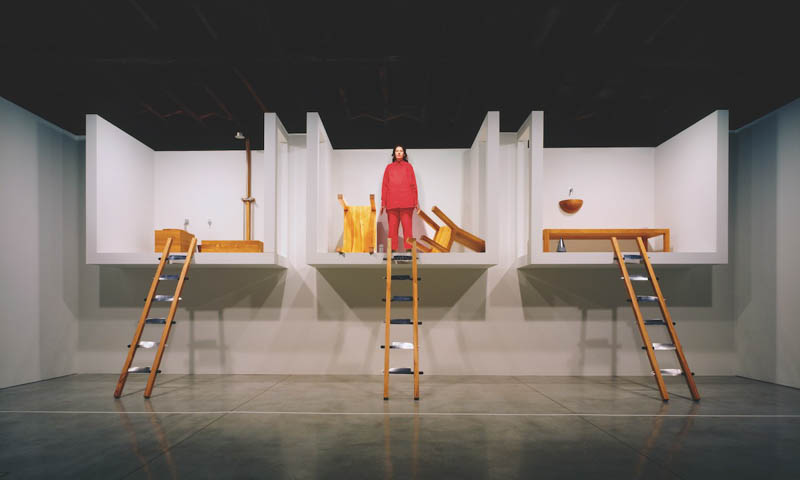 Marina Abramović, The House with the Ocean View, 2002-2018
New York, Abramović LLC, Courtesy of Marina Abramović Archives e Sean Kelly, New York, MAC/2017/072. Credit: Ph. Attilio Maranzano
That same solitude was also doggedly sought by Marina Abramović in The House with the Ocean View dated 2002, a performance that the artist herself tells us was spawned "by my wish to understand whether it is possible to use a simple daily routine with its rules and restrictions in order to purify myself." The artist lived in three suspended interiors for twelve days without eating or speaking, before an audience in the Sean Kelly Gallery in New York. Marina writes in Walk Through Walls: A Memoir: Becoming Marina Abramovic: "It was shortly after 11 September, people were in a receptive frame of mind and crowds of spectators came along, remaining seated on the ground for a long time, observing and reflecting on the experiment in which they were immersed. The visitors and I intensely felt each others' presence. There was a shared energy in the room, and the heavy silence was broken only by the ticking of the metronome that I kept on the table […] I did everything – sitting, standing, drinking, filling the glass, having a pee, having a shower – with a sluggishness and an awareness that bordered on a trance."

Left: Andrea di Bartolo, Caterina da Siena fra beate domenicane (detail), 1394-1398 circa.
Center: Bill Viola, Catherine's Room (detail), 2001.
Right: Marina Abramović, The House with the Ocean View, reperformance Tiina Pauliina Lehtimaki, 4-16 December 2018 Palazzo Strozzi.
The House with the Ocean View was re-performed in Italy for the first time by the performer Tiina Pauliina Lehtimaki in Palazzo Strozzi from 4 to 6 December 2018. Tiina, like Marina back in 2002, lived in silence for twelve days in three small rooms suspended inside the Marina Abramović. The Cleaner exhibition. Each one of the rooms appeared to echo the "perspective boxes" in Andrea di Bartolo's predella, but also the scenes in Bill Viola's Catherine's Room. "Purification," the effort of isolation and the practice of asceticism that we see in them appear to forge a direct, echoing link among the three works. What emerges from all of them is an attempt to imbue daily life with a sacred quality and to rethink our actions, even our most humdrum actions, by imparting new value to them: a reflection on strength of will and on the possibility of imparting new meaning to our lives in a new perspective.