To understand the world of Tomás Saraceno you need to enter the world of spiders and their webs, Thanks to the Arachnomancy App and to individual readings of Archnomancy Cards, we can commune with the non-humans so dear to this artist and thereby interact in a virtual manner with the Tomás Saraceno. Aria exhibition.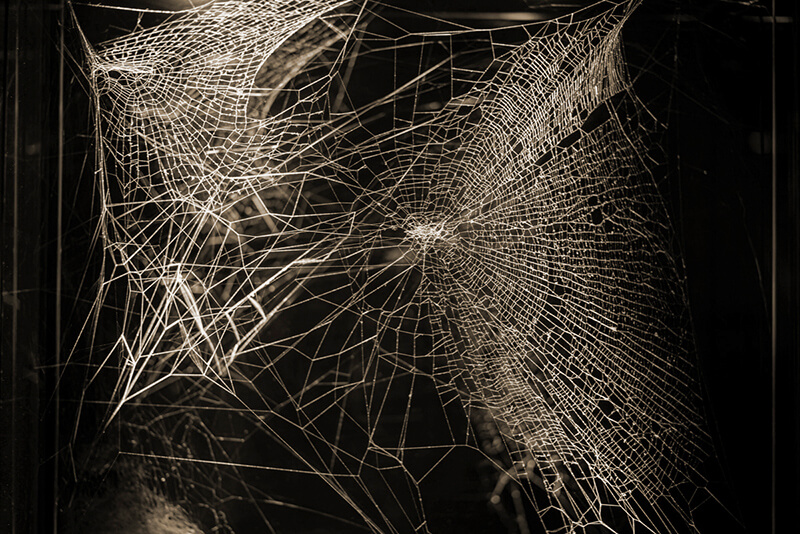 Tomás Saraceno, Webs of At-tent(s)ion (detail), 2020. Installation view of Aria
Palazzo Strozzi, Florence, 2020
© Photography by Ela Bialkowska, OKNOstudio
The fascination that arcachnids hold for Tomás Saraceno dates back to his childhood, when he perceived their presence as beings of equal importance in his home in Italy. This awareness that he was inhabting a shared environment prompted the artist to ask himself: "Do these spiders live in my house, or am I the one living in the spiders' house?" And just like spiders, which emit vibrations through their web to connect with the reality all around them, so Saraceno's work acts as a tool allowing us to perceive phenomena that lie outside our senses. Thus Saraceno has transformed Palazzo Strozzi into a space for imagination and participation in his determination to overcome our anthropocentric ideology and to extol the values of diversity, cooperation and interconnection. He invites us all to tune in to non-human voices which join with ours through endless networks of connection and disconnection in an exhibition that defies the hierarchical norm of the tree of life, proposing in its stead a network of life that highlights the interaction among different species and different worlds.
The exhibition in Palazzo Strozzi unfolds around a set of thirty-three Arachnomancy Cards designed by the artist as metaphors of the links between everything that exists in nature, whether living or otherwise. Each room in the Palazzo Strozzi exhibition is associated with a card that performs the role of a herald linking the content in each space, creating unexpected connections between seemingly distant elements, while another, smaller room is devoted to the complete series of thirty-three cards.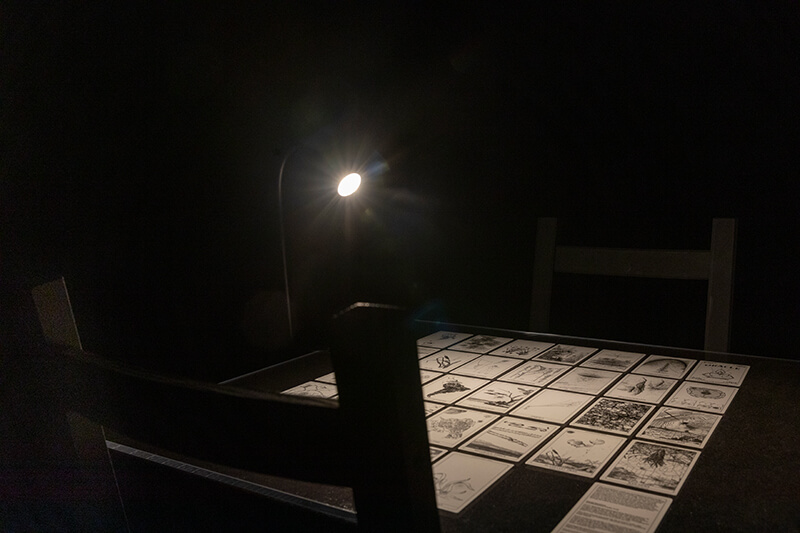 Tomás Saraceno, Arachnomancy Cards, 2020. Installation view of Aria
Palazzo Strozzi, Firenze, 2020
© Photography by Studio Tomás Saraceno
In the context of the current ecological crisis known as the Sixth Mass Extinction, invertebrates such as arachnids and insects are fast disappearing, and their disappearance is having a serious impact on the environment and on ecosystems. While invertebrates account for over 95 percent of all animal species, an overwhelming majority of countries have no guidelines or national regulations safeguarding non-human rights. So it is imperative that we tune in to the non-human voices that join with ours in endless networks of connectivity and disconnectivity and that we recognise their vibrating voices.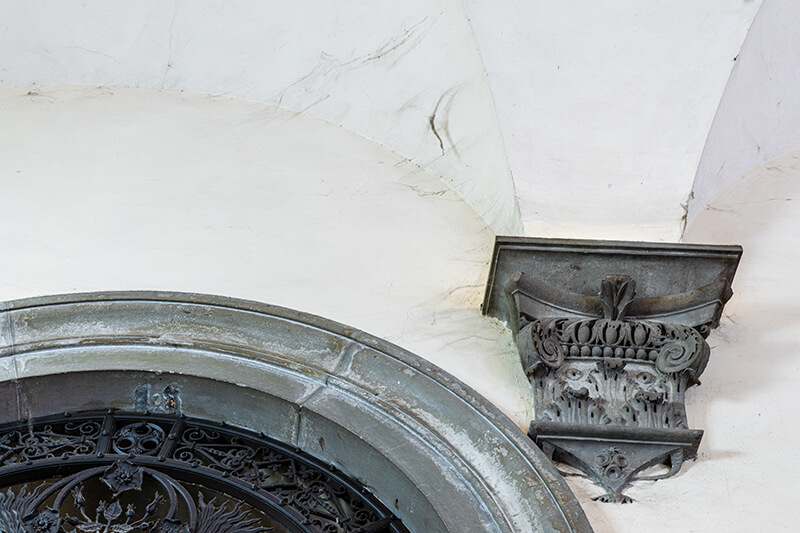 Cobwebs in Palazzo Strozzi
© Photography by Ela Bialkowska, OKNOstudio
There are two ways that we can connect with spiders and consult their cobweb oracle. The first tool enabling us to do this is the Arachnomancy App (available for iOS and Android), an application developed by the Studio Tomás Saraceno allowing you to consult the oracle at any time and in any place, joining a mapping initiative against extinction and creating a network interconnecting real cobwebs throughout the world. Once you have downloaed the App, you photograph a cobweb (there are plenty in your house, even though they may not be immediately apparent!) and take part in a collective exercise that has been christened Mapping Against Extinction.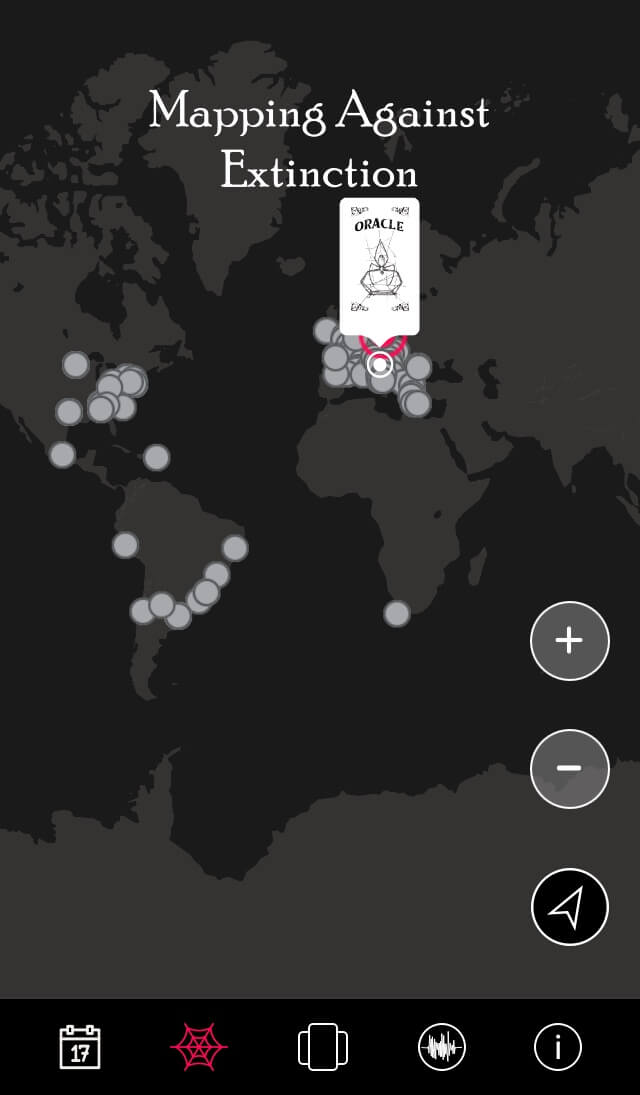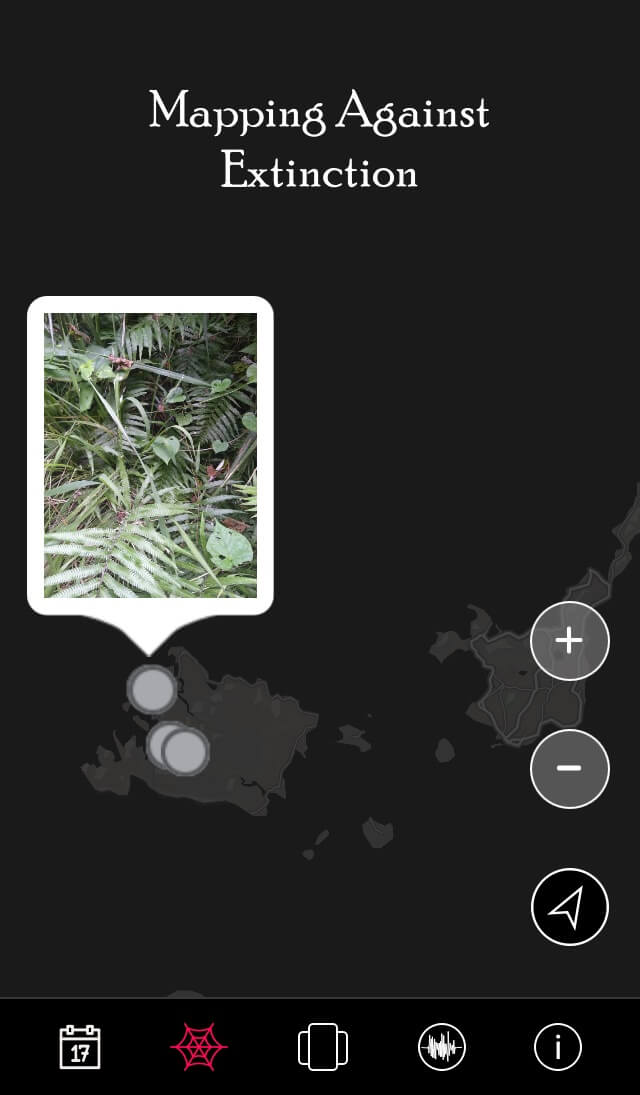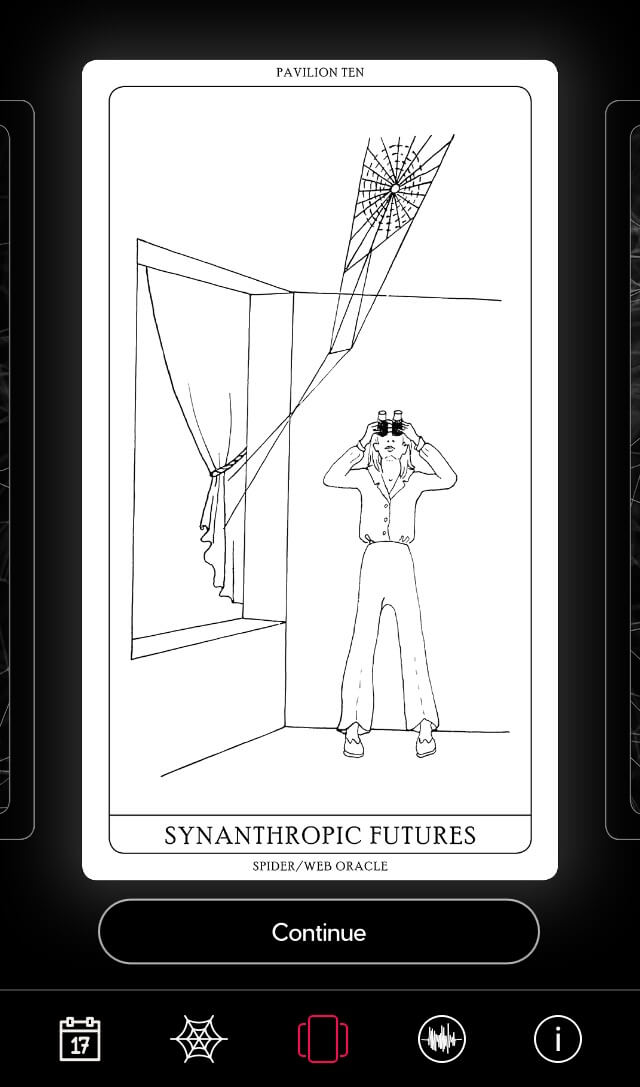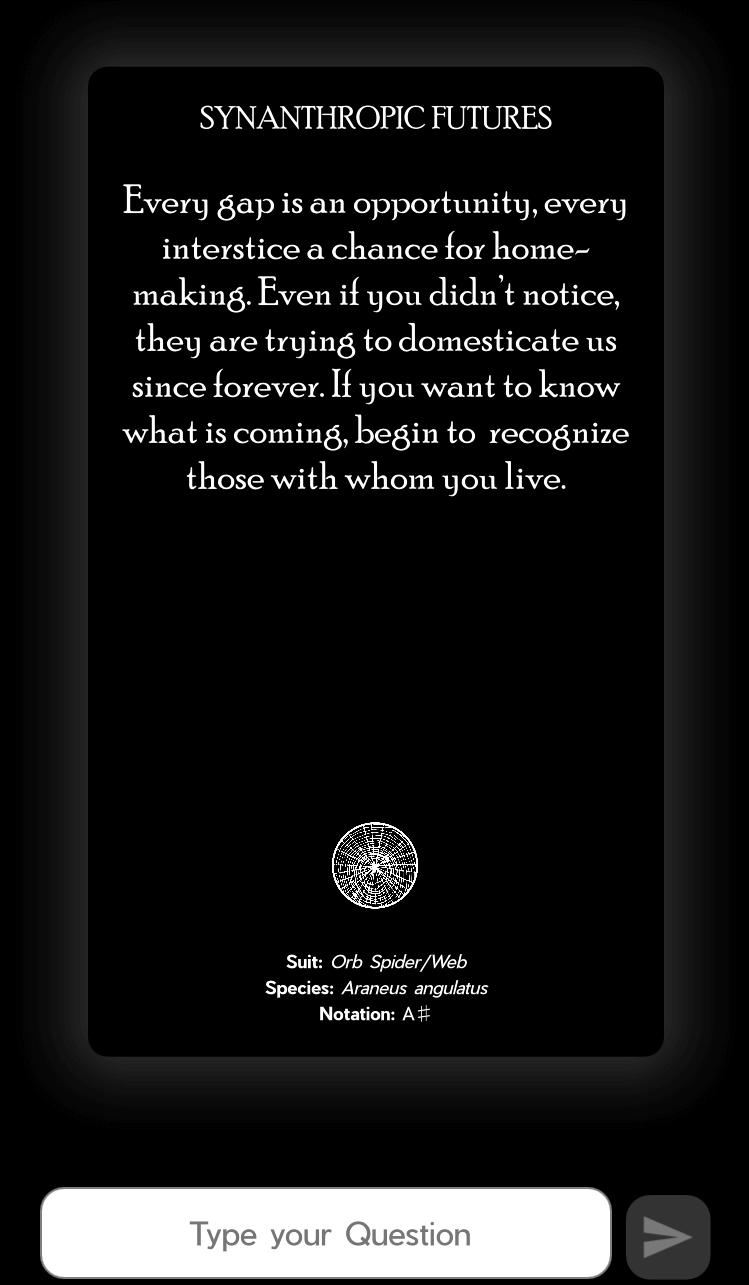 Studio Tomás Saraceno, Arachnomancy App
© Studio Tomás Saraceno, 2019
If you complete this small mission, you can unlock the individual cards required to consult the spider's web oracle, devoting your energy to forms of knowledge that echo the methods of divination practised in various parts of the world. For instance, the Mambila people in Cameroon use divining cards made of the stiff leaves or bark of the rafia tree with ideograms cut out for the practice of nggám, the divination of the acts of a spider. A spider that lives in the area is asked questions, the anwers to which are communicated through the movement of these cards. The spider's powers of divination come from its sensoral universe: its highly developed vibrational senses allow it to enter onto the wavelength of a symphony of biotic and abiotic tremors, a form of knowledge that we humans are incapable of perceiving. This also happens with the vibration of a normal mobile telephone. You can further explore this and other themes that Saraceno and his studio have probed in depth, on the website Arachnophilia.net.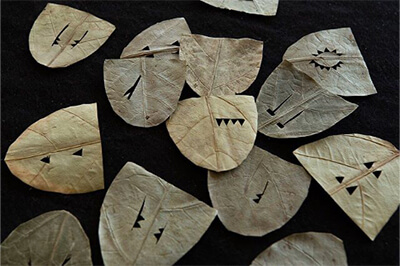 Divining cards for practising nggám or spider divination
You can also consult the oracle by individually reading the Arachnomancy Cards. Each one of the thirty-three cards comprises a storehouse of meanings, the interpretation of which can open up your vision to your experience of life. Gestalt psychotherapist Dr. Gianmarco Meucci will be holding readings lasting fifteen minutes each using the Zoom videoconferecing app on Thursday 30 April from 18.00 to 20.00 and on Satuday 2 May from 15.00 to 17.00. The sessions, held in Italian only, are free of charge and may be booked on Eventbrite. Only a limited number of places are available, but this is a unique opportunity for you to tune in to our reality and the universe of which we are a part.
Cover illustration: Tomás Saraceno, Arachnomancy Cards, 2019 (detail). 58th International Art Exhibition – The Venice Biennale, Venice, Italy. Courtesy the artist. © Studio Tomás Saraceno, 2019.